Favorite Links of "The Mop Tops & The King"
Some of our favorite links!
Radio Goldfield is the "Voice of The Old West" and is the "Flagship" station of "The Mop Tops and The King" radio show! Please give them a listen...
Our mission is to unify and enrich the north country with information, cultural expression, entertainment and involvement from the community. We recommend them highly!
Valley Free Radio (VFR) is a non-profit, community based and volunteer run station for the Greater Northampton area. VFR seeks to educate, inspire and entertain through programming that reflects the diversity of the local community.
KYAC is a community radio station serving the citizens living along the eastern portion of Oregon Highway 22 between Stayton and Idanha.
A fun video of The Backward Kings performing the Elvis classic "You're So Square (Baby I Don't Care)" with 4-year old Little Steven on lead vocals.
Community Radio For Southern Vermont and The New Hampshire border lands.
KKRN FM is a volunteer-based, listener-supported radio station fostering positive social change and healthy communities by entertaining, informing and educating through diverse music, culture, news, and public affairs programming.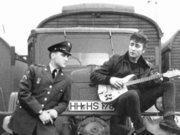 More Favorite Links!
Community Radio serving Provincetown and Orleans, Massachusetts
A new community radio station for Chelmsford, England, working with business, education and the third sector to help promote good things happening in our City.
If you love the popular music of the 60's and 70's, then Classic Hits UK is The Internet Radio Station for you. We will be re-launching the station on 4 January 2016 after extenisve refurbishment of both our studio and programming.
Thank You For Visiting Our Website!